What is Your Pet Peeve?
You hate know-it-alls!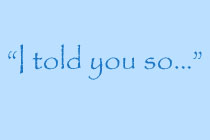 Know-it-alls are your number one pet peeve. They always know everything, and always take pleasure in making you feel stupid. And they always, always make a point of saying something when you screw up something.


Take this quiz at QuizGalaxy.com
This is pretty accurate.
I do hate to feel stupid and I really hate having it pointed out to me.
The worst part of having this pet peeve is that I'm also attracted to really brilliant people . So I guess I have a love/hate attraction . My Mr. Wonderful has this particular trait and it always seems to come out in the most inappropriate times. When I'm looking for support and encouragement is the time that I usually get
"the I told you so but you wouldn't listen"
lecture. Somehow
" being right
"never seems to sooth my bruised ego.